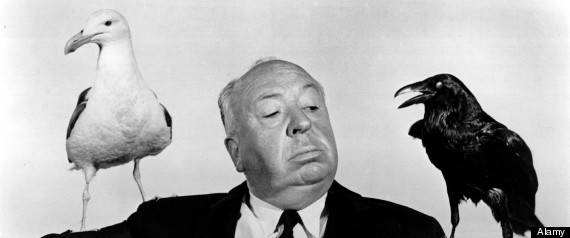 A few of the 25 things you probably didn't know about 'The Birds'. The complete list can be found HERE.
3. After the huge success of "Psycho" in 1960, Hitchcock was given his biggest budget yet to make "The Birds": $3.3 million.
4. Hitchcock initially wanted his 1950s leading lady Grace Kelly for the role of Melanie Daniels, but after she married Prince Rainier of Monaco in 1956, she retired from acting and declined all offers to return to Hollywood. He'd also sought Anne Bancroft for the role, but even with his expansive budget, he couldn't afford her. Others on his wish list included starlets Sandra Dee, Carol Lynley, Yvette Mimieux, and Pamela Tiffin.
15. Future star Melanie Griffith, who was five when her mother played Melanie Daniels, has recalled receiving a bizarre gift from Hitchcock: a doll made-up and costumed like Hedren, presented in an ornate wooden box that Griffith thought looked like a coffin.
17. The movie was nominated for just one Oscar, for its special effects. Hitchcock had hired legendary Disney animator Ub Iwerks to create scenes blending real birds with animated swarms. Impressive as Iwerks' achievement was, the movie lost the category to "Cleopatra."